November 15, 2023
Utah recently released its school report cards for the 2022-23 school year. While we will never put test scores above character education and a well-rounded, history-rich curriculum, it is great to see our kids ranked #1 among all nearby schools!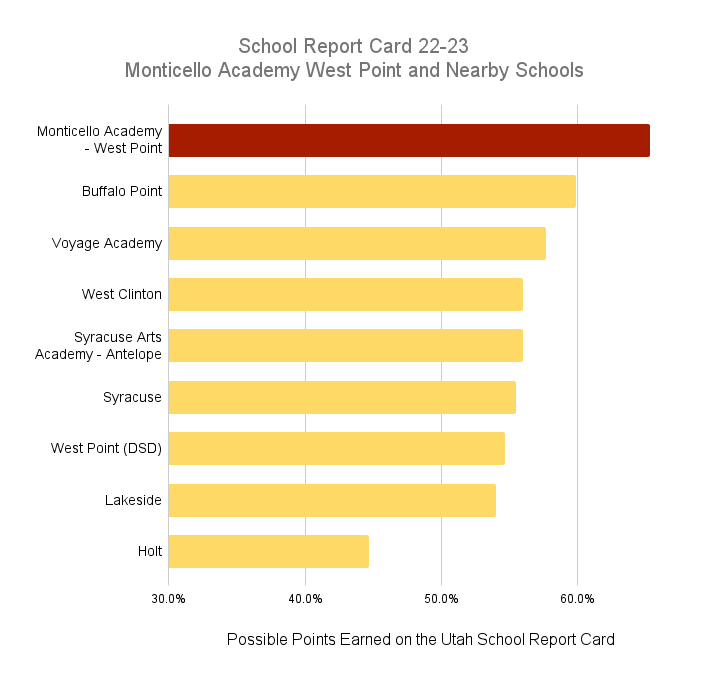 What's the secret to our kids' success?
Great teachers! We work hard to recruit and develop the best teachers out there. After being selected through a rigorous process, teachers typically get feedback or coaching every two to three weeks. This amounts to 6X or more the feedback and support that teachers get in typical Utah schools. (In a recent survey of Utah teachers, the #1 thing they said they wanted was more feedback!)
Rich content. We don't organize our curriculum around the bland, skills-based, test-aligned worksheets and digital programs out there. Our kids get the good stuff: actual history, literature, and culture in every grade level. Why wait until 5th grade to learn U.S. History? Our first graders are learning about the American Revolution. Why wait until 6th grade to learn about world history and geography? Our second graders are learning about Ancient Greece. We use the Core Knowledge Sequence to ensure our students get a rich, thoughtfully-sequenced, content-rich curriculum in every grade level. Ask our kids what they learned about in school today. They're not likely to shrug and say, "I don't know." Their eyes will light up as the tell you stories from history and classic literature.
Well-rounded curriculum. As much as we believe in academic excellence, we know that children learn and grow best when given wide-ranging experiences. Every year our students, get a high-quality program in music, art, physical education, and computer science.
High expectations. In an age when standards seem to get lower and lower, we keep the bar high, both academically and behaviorally. We believe children live up to what is expected of them. At Monticello Academy, teaching principles of character such as integrity, respect, and hard work are just as important as strong academic preparation.
We will open more seats for the 2024-25, so apply starting November 20th or sign up for tour if you would like to learn more!