Parent volunteers make the difference!
At Monticello Academy, each family is asked to donate 40 hours of volunteer service to the school each year. This strong home-to-school connection is one of the reasons our students thrive.
How to log hours:
Parents log their own volunteer hours using Compass. Here's how:
Go to Compass by clicking on the button at the top of this webpage

Log into your parent compass account with the parent or guardian email address

On the left side of the screen select Volunteer Log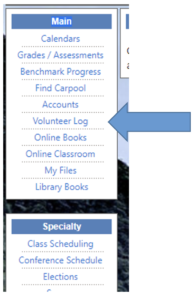 Enter volunteer information and select "Save"

Ideas for volunteer hours
There are many ways you can strengthen our school, so we've decided to open more possibilities for what we consider "volunteer hours!"
For the 2020-21 school year we are also extending the window until the end of June and asking you to double-count your minutes!
Parent Education videos – Learn more about our school and its curriculum. Watch any of the following videos:
Review the Core Knowledge sequence, which you can download for free here.
Do a deep dive into the Core Knowledge approach by reading any of E.D. Hirsch's books:
Provide a learning opportunity for your child related to anything on the Core Knowledge sequence! Examples:

Listen to some classical music from your child's grade level (a list can be found on the Core Knowledge Sequence) or by looking on the music section of our school website (drop down menu: Music Topics by Grade). YouTube has some good animations to accompany many of the classical works.
Read a book together that is related to a Core Knowledge topic.
Go on a field trip related to any Core Knowledge topic.

Learn more about the fascinating topic of how kids learn to read (and why Monticello Academy has always had success by teaching phonics) by listening to the following podcasts or reading some good articles on the topic:
Talk to your friends and neighbors about Monticello Academy! If you have a friend or neighbor sign up for a tour, you can count it as one hour!