What is a Purple Star School?
---
Monticello Academy is proud to have earned the Purple Star designation, which symbolizes our efforts to serve the unique needs of military families. Select resources and information for military families can be found below.
Military Families Point of Contact:
Hayley Gosselin – hayley.gosselin@monticelloacademy.net
Welcome Video – to come
School tour video – to come
Academic Information
Enrollment and Registration Info
Extracurricular
SPED
Parent Council
Pictures showing School Culture – see below
Calendar of Local Military Events
HAFB
Military Discount Stores & Restaurants
Military resources for families: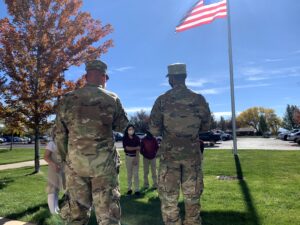 Airmen from Hill Air Force Base train out school Honor Guard in flag etiquette.