November 15, 2023
Utah recently released its school report cards for the 2022-23 school year. While we will never put test scores above character education and a well-rounded, history-rich curriculum, it is great to see our kids ranked #1 among West Valley City schools on the state's measure or students reading on grade level.
Why do our kids do so well? It's not by accident!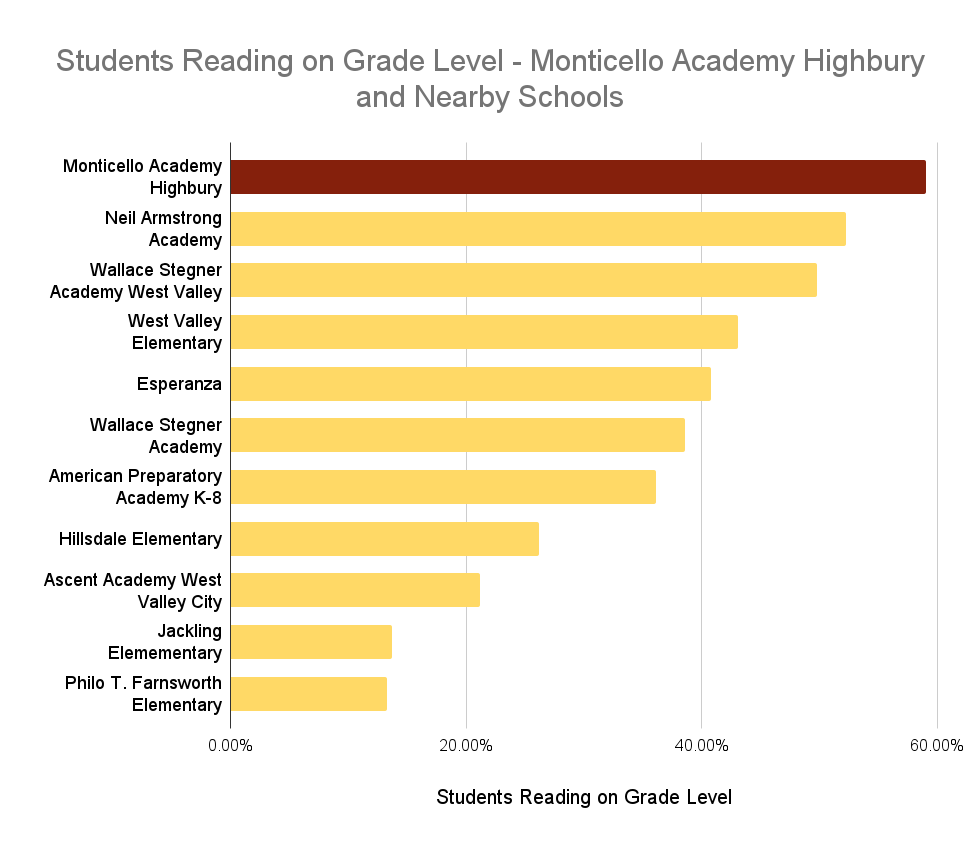 Since its founding in 2006, Monticello Academy has bucked the trends in education, and that's been for the better!
For a few decades, most schools used a "whole language" approach to teaching reading. In this approach, kids are expected to gradually pick up reading through mere exposure to literature. While this might work for spoken language, written language is different–especially when we have this beautiful thing called an alphabet!
Monticello Academy has always taught reading using phonics, which equips students to know how all the letters and letter combinations produce different sounds. With our systematic phonics curriculum, students get the tools they need for reading to be easy, fluent, and fun. With the mechanics of reading firmly under control, they can focus on the  joy of reading and finding deeper meaning in the text. Scientific research now overwhelming proves that phonics-based instruction is superior to other methods. (For the fascinating story of how American education dropped the ball on the best way to teach reading, we highly recommend this podcast.)
With this solid foundation in how to read, our students soon progress to reading classic literature, from the Wind in the Willows in third grade, to the Iliad and the Odyssey in sixth grade and George Orwell and Leo Tolstoy in eighth grade. Students engage in college seminar-style discussions around great books and are also challenged to become independent readers by discovering authors and book series they love. Students regularly visit our well-stocked library, and we challenge them to become "Minuteman Readers" by reading multiple books across different genres each year (and the vast majority of them do!).
Having the highest reading scores in West Valley City is a nice validation that what we're doing is working, but the main reward is seeing our students thrive in a culture of reading!