May 3, 2023
As a parent, finding the right kindergarten for your child can be a challenging task. You want a school that provides a well-rounded education, an excellent reading program, and flexible options for your child's schedule. Monticello Academy, in West Valley City, is the best charter school in the area for kindergarten, and here's why.
Top-Tier Reading Program
At Monticello Academy, we believe that reading is the foundation of academic success. Our reading program consistently ranks among the top in the state. Last year, Monticello Academy was the #2 ranked kindergarten in Salt Lake County in student reading growth. For seventeen years, we have used a research-based systematic phonics program that is so effective the State of Utah passed a law to require all schools to adopt these methods.
Well-Rounded Curriculum
We believe that a well-rounded education is essential for a child's development. That's why our curriculum includes not only the core subjects but also art, music, and computer science. We believe that these subjects are critical for developing creativity, problem-solving skills, and digital literacy, all of which are vital for success in the 21st century.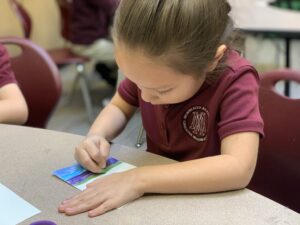 Flexible Options
We understand that every child's needs are unique, and that's why we offer both full-day and half-day options for kindergarten. This flexibility allows parents to choose the schedule that works best for their child and their family. It also helps children ease into the school environment at their own pace, ensuring a smooth transition into elementary school.
If you are interested in learning more, click Schedule a Tour above or click on Apply Now, as applications are accepted year round. For the 2024-25 school year, applications will open in November of 2023.