March 1, 2022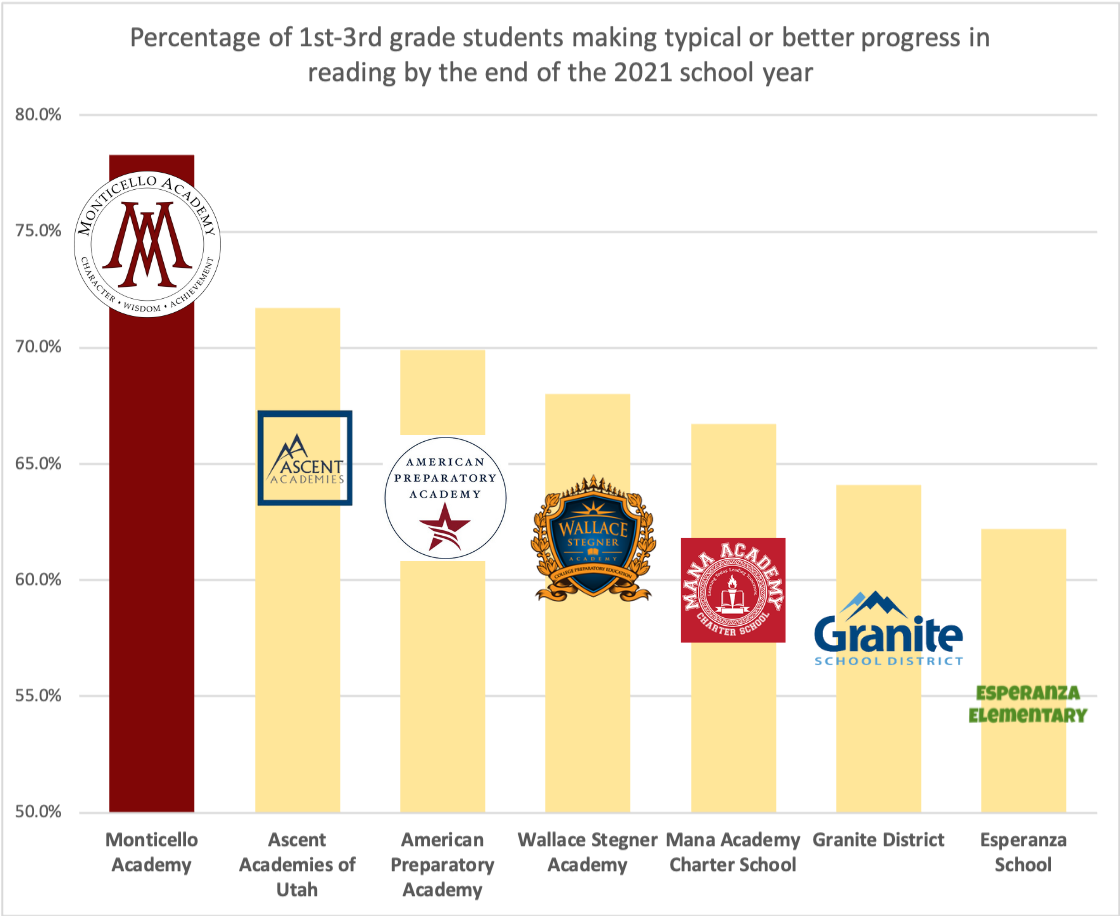 Monticello Academy in West Valley City, Utah, received its end of the year data from 2021, and–regardless of the pandemic–students saw incredible growth. Seventy-eight percent (78%) of students in first through third grade were making typical or better progress in reading by the end of the 2021 school year and the school's scores were the highest in West Valley.
When comparing the results to other schools in West Valley, Monticello Academy finished five percentage points ahead of the next closest school and over ten percentage points higher than the Granite School District schools. Monticello Academy is a public school that is tuition-free.
The Best Reading Curriculum in West Valley City
In English, Monticello Academy, builds a love of reading through an emphasis on both independent reading and a study of classic works of literature. From the earliest grade levels, the curriculum is designed to prepare students in West Valley City for advanced high school programs (such as AP classes), with an emphasis on both foundational reading skills (systematic phonics instruction) and critical thinking and writing. Click here to see Monticello Academy's curriculum maps for K through 8th grade in West Valley City and learn more about what students are being taught on a daily basis.
Monticello Academy, in West Valley City, Utah, starts students off with phonemic awareness, which is the ability to identify and manipulate individual sounds. From there, students move into basic code, which teaches students the basic alphabet–short vowel sounds and consonants. Lastly, students explore advanced code, diving into the sounds of multiple letters, one sound with multiple spellings, or multiple pronunciations behind one spelling.
The early reading curriculum offered to students in WVC gives a systematic exposure all of the phonics rules students need to know to become fluent readers. But the the reading curriculum is not just dry, disconnected reading skills. We use rich content from history and literature to make reading meaningful. Students engage in discussions and debates about the content they read, making reading come to life. The failure of typical schools to provide this rich background knowledge is one of the reasons most schools are failing out kids.
West Valley Campus Tours
If you would like to learn more about how Monticello Academy is helping students in West Valley City learn how to read, be sure to schedule a tour below to take a look at the school.